A dedicated home server can be used as the basis for your own private cloud or smart home.
---
Hardware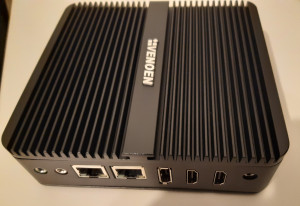 Hardware
/
Cheap and economical Docker Mini Server for home use
created: 2023-01-23 from Bernhard
If you want to run a small server at home, you need hardware with low power consumption and still enough performance. Currently, I use a self-built NAS for the operation of my Docker containers. The hardware serves as network storage and at the same time as a platform for running my Docker containers. To optimize the setup, it would be better to separate the two tasks and run the server services on their own hardware. Since the data on a single device it not secure anyway, a NAS could additional... ... continue reading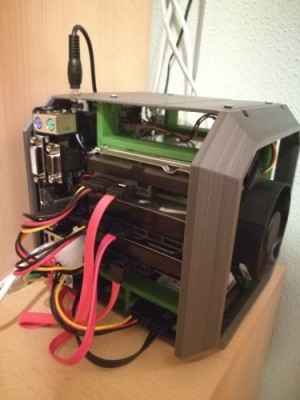 Hardware
/
[DIY] Build your own low power NAS: cheap and energy-efficient
changed: 2023-01-15 from Bernhard (Initial Release: 2022-05-05)
If you are looking for a NAS (Network Attached Storage) for home use, you cannot avoid the manufacturers Synology and QNAP. Both manufacturers deliver small NAS complete solutions with the option to synchronize data locally or via the Internet, and both do not exactly charge little money for the hardware used. ... continue reading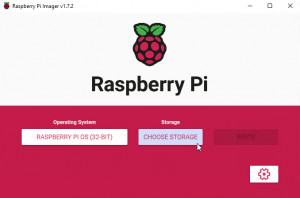 Hardware
/
Raspberry Pi startup
created: 2022-12-28 from Bernhard
When I bought my first Raspberry, the first thing I did was to install and run an OpenElec Media-Center image: works, faster and easier than expected. Thanks to the HDMI connector and the Full-HD graphics chip, the Raspberry Pi is wonderfully suited as a TV supplement in case of missing or deficient smart TV functions or as an engine for a retro game console like Super Nintendo. There are also more specialized images for automation tasks, for example as a supplement for controlling a 3D printer. ... continue reading
Access from the Internet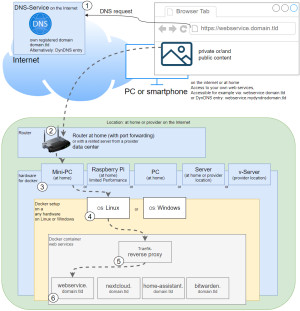 Network
/
https web services as VPN alternative: access to the network
created: 2023-02-20 from Bernhard
For a long time I used a VPN (Virtual Private Network) to access the home network from the Internet. And for along time I thought that a VPN was without alternative for accessing data or devices on one's own network. The VPN allows a connection from the Internet to the own network (LAN), just as if the device would be in the WLAN at home. But do I really need access to the entire network? Wouldn't it be better to enable only certain services? What do I need from my own network on the road? Acces... ... continue reading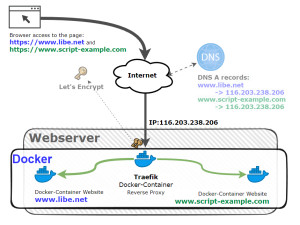 Container
/
secure https connection: Traefik Reverse Proxy + Let's Encrypt
created: 2023-03-23 from Bernhard
Ready-made Docker containers are available for almost all known web systems, or they can be created relatively easily or existing containers can be adapted. As Docker containers, the web services can be installed and operated very easily. Anyone publishing a web service over the Internet should definitely offer an encrypted connection (SSL) for this today. To control access to one or more containers, a reverse proxy with free Let's Encrypt certificates can be used for SSL offloading, see also: o... ... continue reading

Free DynDNS service - access with changing public IP.
created: 2022-11-28 from Bernhard
Anyone who wants to access a private network from the Internet may need a DynDNS service (dynamic DNS, DynDNS or DDNS) for this purpose. If the Internet provider assigns a different IP address for each connection, a DynDNS service can react to this and enable access via a constant DNS name. ... continue reading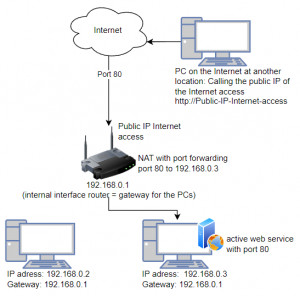 Make it available from the Internet: Port Forwarding - OpenWrt
created: 2022-08-08 from Bernhard
Port forwarding can be used to publish computers in your own network on the Internet and thus make them accessible from the Internet. Anyone who uses a WLAN router for their home network to connect to the Internet has most likely set up a NAT (Network Address Translation) on it, either consciously or unconsciously. This means that the internal devices use private IP addresses and connect to the Internet via a common public IP address. To enable a connection from the Internet to a specific comput... ... continue reading
Webhosting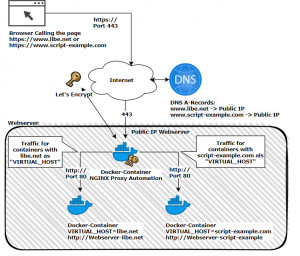 Since the start in 2003, not only this site has changed a lot, but also the technical possibilities when hosting a website.Originally I started with a small webspace, later I rented a virtual server with Plesk, and today I run the website in simple Docker containers.Today there are certainly much more options for running a website than back then, which on the one hand simplifies the operation on the other hand there are also new requirements for a website today. However, the topics described he...